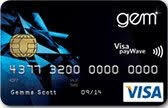 Take advantage of 0% Interest Payment Plans with GEM Visa when you spend $300 or more on Tyres, Wheels, Wheel Alignments, Brakes & Servicing.

0% Interest Payment Plans give you flexible payment options that allow you to enjoy the things you need now.
You have the flexibility to make extra payments at any time to reduce your balance. Interest is only calculated on any remaining balance at the end of your 0% interest period – and is not backdated.
Ask us how when you visit The Tyre Factory.