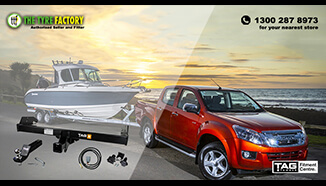 About to head away and looking to Tow a trailer, boat, PWC or van? Looking for a complete Tow Bar solution - Like to buy an AUSSIE made Product?
To get a complete TAG Towbar TOWING SOLUTION, call your local The Tyre Factory store
At The Tyre Factory we are more than just Tyres, Wheels, 4x4 and Services...Now we have a complete solution for Towing ...whether it be a trailer, a camper, a van, your boat or Jet Ski we have the Tow Bar, OE Harness and all the accessories to get you underway and to be safe... All at the right price
No matter whether you have an Aussie Car, Ute or Van, a prestige European vehicle, something from Korea, Thailand or Japan or a BIG USA brute ..We fit the lot...
We have complete plug and play harnesses so your Cambus systems, inbuilt safety won't be touched or impacted unlike many bars and fitters we don't splice or play with your genuine factory systems..
We won't be beaten on price so choose a TAG Towing solution today