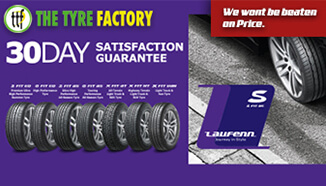 Hankook Tyre, one of the leading tyre companies in Australia, has Positioned as an associate and entry-level brand, Laufenn which serves the reasonable consumer with a well-rounded range of reliable products at a lower entry price point with a product dedicated to value, quality and style. To back this up Hankook give a 30 day Satisfaction Guarantee.
At the Tyre Factory we stock the full Laufenn range and "We won't be beaten on price".
Laufenn has been created using the Latest global technology and comes in the following tyre patterns:
S FIT EQ –Ultra-high performance summer tyre
G FIT EQ – High performance summer tyre
X FIT HT – Highway-terrain SUV and light truck tyre
X FIT AT – All-terrain SUV and light truck tyre
X FIT VAN – Light truck and van tyre
S FIT AS – Ultra-high performance passenger tyre
G FIT AS – Touring high performance passenger tyre
"Whether its commuting to work via the motorway, driving a sports car on the weekend, or venturing in a 4X4 during the holidays, Australian drivers want specific tyres to satisfy their lifestyle. "The Laufenn brand gives customers what they need, and at the same time delivering value, quality and performance."